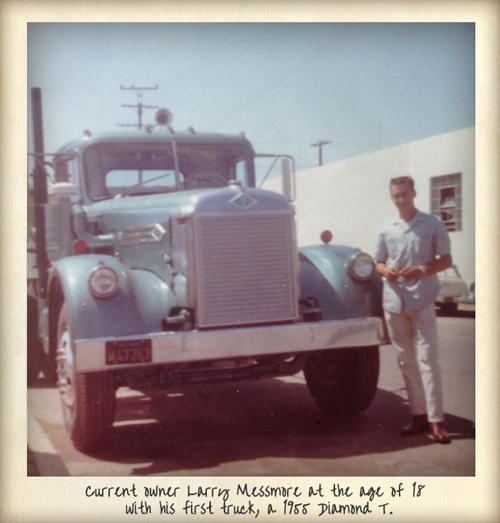 For three generations DLM Trucking has carried on the tradition of quality and service. It was founded by the current owner's grandfather, Dwight Messmore, over 50 years ago in Oxnard California. Dwight's son Larry also took an interest in truck driving and bought his first truck at the age of 18- a 1955 Diamond T.  Larry and his wife Janey continued to grow their family and their trucking business in the Oxnard area until 1992 when they decided to purchase a 200 acre farm in Sunnyside Washington. With the help of their two sons, David and Danny, they were able to successfully continue to operate the trucking company while diversifying into farming. Over the years DLM has built strong relationships within the agricultural community, taking pride in providing reliable hauling and great service for all its customers. Larry's oldest son David now leads DLM Trucking into the 3rd generation.  Regardless of how the company has grown, there remains an emphasis on a strong work ethic and a sense of family atmosphere.
DLM Trucking is still a family owned business, operating the trucking company located in the heart of the Yakima Valley in South Central Washington State. Established over 50 years ago with the purchase of one truck, a 1955 Diamond T, DLM has grown to a fleet of 75 power units, 70 CARB compliant refrigerated trailers, 15 53' curtain vans, 15 sets of 40' x 20' maxi-flats and 15 sets of 40' x 24' maxi-flats. We service all 48 states and primarily specialize in the shipment of agricultural product such as produce, beef, and dairy.
Our longevity and success has been a direct result of our commitment to exceptional customer service.  The number of customers that have been with us for 40+ years bears witness to the fact that customer satisfaction is at the heart of all we do. DLM Trucking has the experience and the equipment to meet and exceed the transportation needs of your business. Give us a call today!